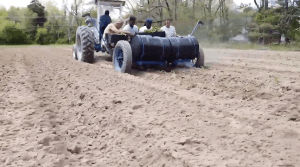 A local African American family-owned farm is doing its part to uplift humanity by providing their customers with fresh and tasty organic produce.
K&J Organic Farms, LLC., located in Pittsgrove Township, launched its operation about a year and a half ago and is beginning to build a positive rapport with local residents as well as lovers of fresh produce from other areas.
The farm, which is owned by Kenneth and Joe Bartee, along with their partner Andrew Swinton, is gradually making a name for itself for having some of the freshest and healthiest fruits and vegetables around—at refreshingly low prices.
"There's no price on the stand that'll be lower anywhere else," declared Kenneth Bartee. "With our prices, we are lower than everybody. And I make sure of that."
Kenneth, who learned the art of tilling the land from his grandfather/co-owner Joe, has been around farming all of his life.
"I grew up into it," Kenneth said. "I've been on a tractor since I couldn't even reach the pedal."
Joe Bartee has been farming for decades and gladly shares his hard-earned wisdom with everyone who works at K&J Organic Farms.
"I started farming when I was five years old, in Georgia, walking behind a two-horse plough" Joe said. "It's just in my blood."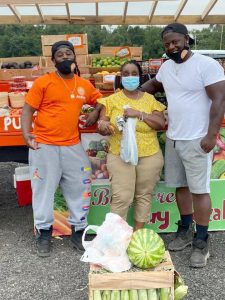 Kenneth, a star running back for Schalick High School in the early aughts, gives major credit to Joe for helping K&J reach the level it's risen to, thus far.
"He's the brains," he said, also noting that like his grandfather, Kenneth is developing an "Each One, Teach One" mentality.
K&J Organic Farms is a rarity in this area. According to the 2017 Census of Agriculture County Profile of Salem County, there are less than five organic farms in that county.
An even more unique aspect of the operation is that it's an African American-owned farm.
In the United States, there are approximately 46,000 African American farmers, which represents a miniscule 1.3 percent of the more than 3 million estimated farmers in the country.
There are many reasons for this disparate number of African American farmers, including a long list of policies created by the government that make it more difficult for people of color to purchase the acreage they need to grow crops.
The Bartees and Swinton are extremely proud to be an African American-run business/farm and hope to inspire more people of color to follow their lead.
"Last year, my son said he wanted to be a cop," Kenneth Bartee said. "This year, he said he wants to be a farmer."
"It's such a beautiful feeling," Swinton said. "To contribute and to help the community the best that we can with great prices and fresh produce, is a beautiful feeling."
Nakiesha Bartee, Kenneth's sister and an employee of the farm, concurs. "…To actually have a stand … it feels good. [We're] black and doin' it!"
The proprietors of K&J are planting their seeds on approximately 50 acres of land, in a deal they worked out with the Alliance Community Reboot (ACRe), the owner of the farmland.
ACRe, run by William and Malya Levin, is a nonprofit organization that seeks to rebuild a Jewish farm-based community in South Jersey, The deal that was hashed out by both parties provided K&J the opportunity to farm the land if they grew organic produce.
"Our neighbors Joe and Kenny Bartee were the only farmers we met who had the skills necessary to manage a farm of this size and who were also willing to adhere to USDA organic requirements," said the Levins, when asked how their partnership began.
According to the Levins, the relationship they have with K&J has been nothing but fruitful.
"…As we've gotten to know each other we have come to recognize our relationship as a symbiotic partnership," the Levins said. "We are all learning together while striving to be productive and profitable."
"Without them, this wouldn't even be possible," said Kenneth of the Levins and ACRe.
Regarding the state of the world today, Kenneth believes that eating organic foods is the healthiest and best choice to make during these challenging times.
"With everything going on in the world right now, you've got to stay healthy," Kenneth advised. "You can't play with your health anymore. Especially with everything going on with the COVID. You've got to be on top of it."
K&J Organic Farms has an appealing motto, Growing to Heal, and its vision is "To one day become an infinite source of fresh foods, fruits, and produce for communities of all races and origins."
The farmers also intend to "produce a great number of goods with natural healing abilities."
"There's no big secret to it," said Swinton. "We nurture the plants; we baby them, and we watch them grow. [We] put pride and love into it and we just want to produce the best possible product in the area."
The fresh, tasty, healthy foods available at the Farm's produce stand range from collard greens to plums, green and yellow squash to Jersey tomatoes, and much more.
K&J Organic Farms puts a premium on having the freshest produce around. And if they don't happen to have something specific you might be looking for, Kenneth guarantees it'll be there the very next day.
The employees who work at the farm are a tight-knit group and are welcoming and cordial to their customers.
"When you come here … it's an experience," Kenneth, who's a stickler for customer service, proudly revealed. And many customers agree.
"Shopping at K&J Organic Farms, [they] treat their customers like family," said Jocovi Lindsey, a Vineland resident. "You feel good supporting a business like this, knowing both their fresh organic produce and pleasing organic hospitality makes for a better experience of life."
Kenneth, who says the company "started off with one tractor and a broken-down machine," but now has an entire operation with all the equipment it needs to grow, has grand visions for the farm.
"I'm really dedicated to building this brand to where I might have a K&J Philly, New York," he says. "I got a K&J hot dog stand coming out here next. It's called K&J Quick Bites."
As it stands, the farm already has people coming from as far away as Pennsylvania, Delaware, and north Jersey to purchase its products, including T-shirts and pandemic masks, which is an exciting development for the proprietors.
Bartee and the crew are also graciously using their position as farmers as an opportunity to assist those with food insecurities.
"We do bundle boxes (filled with all kinds of tasty treats, including fruits and vegetables) … just to give back," says Bartee. "I realized this is something people need, and something I can help people with. K&J is for the people." n
For more about K&J Organic Farms, including business hours, visit knjorganicfarms.com, call 856-392-7590, or check them out on Facebook.